Review finds Wrexham youth club buildings 'unsuitable'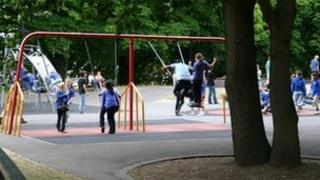 Some buildings used to host activities by Wrexham's youth services are poor and have a "substantial repairs backlog," says a review.
Council officials also highlight "limited opportunities" for young people with disabilities.
The review says youth club usage is lowest during school holidays but are provided throughout the year, making for an inefficient use of resources.
Talks are to be held over plans to shake-up the service next year.
The report to the authority's children and young people scrutiny committee says there was an "over reliance" on youth services based in buildings, even when they were unsuitable or not well attended.
'New approaches'
"This applies to buildings owned by the local authority and other buildings leased by the youth service.
"The majority of the 11 youth service-owned buildings are graded as poor or average and have a substantial repairs backlog. Only four are rated as good."
According to the authority, there are about 7,350 children between the ages of five to nine and 24,500 aged between 10 and 25 years in Wrexham.
For the period 2010/11, the total number of young people engaged with the youth service was 8,417 with 1,963 involved in community-based provision along with 2,684 children registered with one of council's play services.
At a meeting on Wednesday, councillors agreed to a consultation to be held with local groups, including children, to help develop "new approaches" to the delivery of youth and play services in Wrexham.