Disabled Gareth Stafford welcomes Chirk station refurbishment plans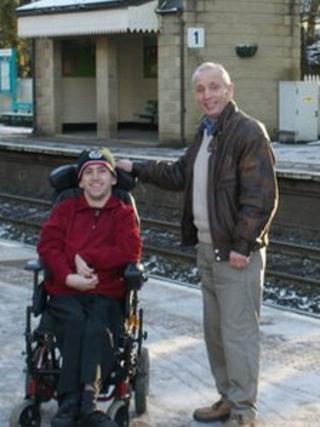 A disabled sportsman and his family, who campaigned for 20 years for better access to his local railway station, have welcomed plans for a £1.2m refurbishment.
Gareth Stafford uses a wheelchair due to cerebral palsy, and plays boccia, a form of bowls, for Wales.
He can travel southbound from his home town, Chirk near Wrexham, but there is no northbound disabled access.
An upgrade, including a new bridge, is due to be completed by 2014.
Mr Stafford, 25, has been able to catch a train from the southbound platform, which is on the flat. However, the northbound platform is accessible via a staircase.
His mother Gill Stafford said return journeys from Shrewsbury had to be planned in advance, often involving her son catching buses, or being met at Gobowen station.
Welcoming the news, she said: "We have been fighting for more than 20 years for this. We have written to everyone we could possibly write to.
"Gareth can't walk at all.
"There's a staircase going down to the northbound platform. If you go south, to Shrewsbury and beyond, then you can't go back.
"He can't alight at the northbound platform. He has to be met at Gobowen.
"He had an interview in Cardiff recently. He had to be taken to Gobowen and be met there. He lives in Wales but he can't travel by train to the capital city."
She added: "He's unable to speak, but can express his feelings very well.
"He's absolutely over the moon. He's got very strong feelings about this.
"It will mean he's got the freedom to choose where he wants to go, just like we have."
Funding for the work is provided by the Department for Transport.
It will pay for a new bridge giving wheelchair access to both sides of the platform, as well as other modifications.
The work is expected to be completed by 2014.
John Bell, chairman of the North Wales Welsh Conservatives, who also campaigned for improvements at the station, welcomed the funding, adding the situation had been "ludicrous".