London 2012: Rower Tom James treated for Atrial Fibrillation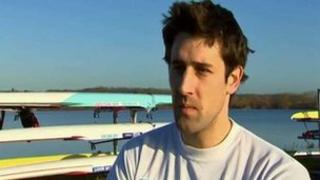 Welsh Olympic rower Tom James says it was a shock to find he had been suffering with a heart condition.
The gold medallist said the condition which causes an abnormal heart rhythm is under control after treatment.
James is in training with the GB Rowing squad but says he may not learn whether he has been selected for some weeks.
"It was a bit of a shock to hear you have got a heart issue when you're 27 and leading a healthy lifestyle," James told BBC Wales News online.
He says he hopes to be able to defend his 2008 gold medal in the coxless fours at London 2012.
James from Wrexham said he thought he had "picked up a bug" over Christmas which then began to manifest as a high heart rate so doctors sent for him tests.
He was found to be suffering from Atrial Fibrillation (AF) which, he says, was successfully treated with medication.
"Hopefully, it is temporary. It is not going to hold me back in the Olympics," said James, although he conceded it could return.
'Going to be tough'
The condition is said to affect 50,000 people in Wales.
Montgomeryshire MP Conservative Glyn Davies had treatment for AF in 2010.
Former Prime Minister Tony Blair has received hospital treatment for an irregular heartbeat.
Olympic gold medal rower Matthew Pinsent has tipped James for another medal at this summer's games along with two others with Wrexham connections.
Chris Bartley and Vicky Thornley won 2011 world championship bronze in the lightweight four and women's eight respectively.
"We still have a way to go before selection. It is always going to be tough," said James who won gold at the 2008 Beijing Games.
"I feel fit and came back pretty quickly," he said referring to his training regime.
James said the rowing squad trains daily with one day off a month.