Connah's Quay opposition to incinerator option for waste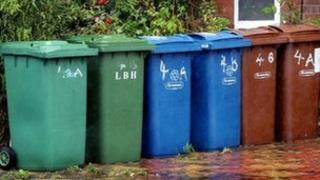 A town council has written to community leaders elsewhere raising concerns about an £800m waste scheme which could see an incinerator built in Flintshire.
Preferred bidders are drawing up proposals about how to process 150,000 tonnes a year of non-recyclable waste generated by people in north Wales.
There is concern an energy-from-waste incinerator could be an option with land in Deeside suggested as a site.
Officials behind the project say no decisions have been made yet.
However, land at Anglesey has since been ruled out.
Over 5,000 people have signed Connah's Quay Town Council's petition opposing incineration plans and calling for "greener methods of disposal".
Connah's Quay Town Council clerk Ian Jones has now written to other town and community councils in surrounding areas raising health and environmental concerns with using incineration as a method for processing the waste.
Officials behind the project have invited three preferred bidders to draw up plans for processing plants to deal with waste currently put into landfill.
They are able to propose their own site.
North Wales' five main councils - excluding Wrexham - joined forces to create the region's single largest joint local government procurement project.
It represents an investment of up to £800m over its 25-year lifetime.
Flintshire council is taking the lead among the group made up of authorities covering Anglesey, Gwynedd, Conwy, and Denbighshire.
The partnership is called the North Wales Residual Waste Treatment Project (NWRWTP).
It announced in 2010 that a site at Deeside Industrial Estate could potentially be used to locate an energy-from-waste incinerator.
Detailed proposals
But officials said it was used simply to demonstrate a business case to secure £142m from the Welsh government.
The letter from Connah's Quay council says: "Although no firm proposals have been agreed there is a school of thought at present, as part of the waste treatment, an incinerator will be built to burn household waste from the whole of north Wales."
It goes on to raise concerns about possible effects on health and the environment, and calls on councils to support the council's petition.
The NWRWTP said nothing had been agreed as the project was following a timetable which showed a single preferred plan would not be selected for some time.
A spokesman said: "The partnership looks forward to having meaningful discussions with local residents and concerned parties once we have received detailed proposals from the bidders this summer."
And in response to health and environmental concerns, its website says there are strict laws in place regarding emissions to protect public health.
Another proposed site on land at Anglesey Aluminium was withdrawn last November.