March over Remploy factory closure plan in Wrexham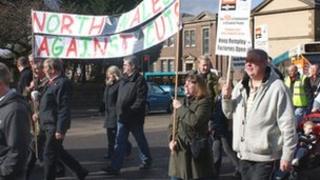 Staff and supporters of Wrexham's Remploy factory have marched through the town over closure plans.
It is one of seven Welsh sites facing the axe by the UK government, with 272 disabled people's jobs threatened.
Earlier in the week, ministers in London ruled out devolving responsibility for the factories to the Welsh government.
It was also revealed that the Welsh Remploy sites are projected to lose more than £6m this financial year.
Remploy was established in 1946 as part of the creation of the welfare state.
Workers are employed in enterprises that vary from furniture and packaging manufacturing to recycling electrical appliances and operating CCTV systems and control rooms.
But an independent review into the businesses said money would be better spent supporting individuals, rather than investing in loss-making factory units.
The move has been severely criticised by politicians in Wales, where only two Remploy factories - at Porth and Neath - will stay open.
Around 100 people were at Saturday's rally.
The Wrexham MP, Ian Lucas said the announcement had been "devastating".
Taking part in Saturday's march, he said: "We are showing that Wrexham is not going to lie down.
"We want to work with anyone to keep this facility open."
About 100 workers and supporters including local councillors and assembly members, marched around the town from the Regent Street Remploy offices on Saturday.
Wearing a 'keep Remploy open' tee-shirt, Barry Lynes, a worker at the Wrexham Remploy factory for 24 years, said: "If this place shuts we are not going to get a job.
"There are no jobs [for disabled people] in the good times let alone now.
"The money is not great but it is a job."
Wrexham councillor, David Bithell said he wanted local people to show their support for the Remploy staff, which was last threatened with closure in 2007.
"The people of Wrexham supported keeping the factory open then, and I hope they will support the current campaign to save the factory, which employs a dedicated workforce who are committed to seeing that production does not cease," said Mr Bithell.