Caia Park Communities First board members resign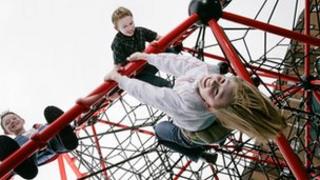 Five out of 16 people have resigned from a company set up to help people on a Wrexham estate, due to concerns about how the project will be run.
Former chair of Caia Park's Communities First Board (CPCF), Christine Thomas, said some people could lose out due to proposed changes.
Not everyone agrees and one board member said the changes would allow more spending on front-line services.
There are plans for Wrexham council to take over the CPCF role from September.
The current CPCF is a company limited by guarantee on a not-for-profit basis. Bids for funding were sent to the Welsh government for approval and then, if accepted, the CPCF was responsible for overseeing the spending.
But the Wales-wide review of Communities First will mean structural changes taking place.
For Caia Park it will mean joining up with Hightown and losing its financial independence, with Wrexham council taking over as lead development body.
At the Caia Park Board on Tuesday, members were presented with the resignation of five of the six "resident" members.
Their resignation letters all said they were unhappy with the way in which the issue of local community involvement was heading.
Three of them said that deteriorating health was also a major factor.
Former chair Ms Thomas said while change was inevitable, the system which had been in place for the past 10 years had been praised as "best practice" by the Senedd, and the members had experience.
She said concerns about the future, coupled with health problems, had prompted her to step down.
"My main concern is that I don't feel that the community consultation has been enough, so not everyone is involved," she said.
"We've had quite a few successes in Wrexham, and Caia Park, so I do wish the programme well in the next 10 years," she added.
Board member Malcolm King, who is also a Caia Park county councillor and is staying on, said the resignations all at once "came as quite a shock, although in many ways not a surprise".
'Child poverty'
He said three members had been suffering from ill-health, and there was a lot of disappointment about the apparent loss of independence as well as unhappiness about some of the processes.
He said the loss of experience on the board would "undoubtedly be a significant loss" and he was sorry to see them go.
Mr King added that he was optimistic about the future.
"We must not forget the reason why we are doing this and that is that Caia Park suffers from some of the highest levels of child poverty and educational deprivation in the whole of Wales and we must all dedicate ourselves to this task and not be distracted from it," he said.
A spokesperson for Wrexham council said that as Caia Park Communities First was a private company, it would be inappropriate to comment.
"A decision on whether Wrexham council take over as the leading body is still subject to approval by the executive board," the spokesperson added.