5mph bus takes to pedestrianised Wrexham streets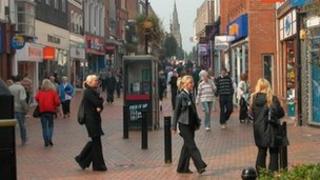 A new shoppers' bus service is starting in Wrexham, which will see its speed cut to 5mph in pedestrianised streets.
It will run between the main railway station and shopping areas.
Its speed limit will be reduced when it goes along the red-brick pedestrianised areas.
The pilot service comes after calls for a return to buses on the High Street near the Eagles Meadow shopping area which is at the opposite side of town from the bus and railway stations.
It will stop at normal stops and will operate as a "hail and ride" in the pedestrianised areas.
It will run as a trial until December.
Wrexham council started the service after offering free parking to shoppers after midday at the People's Market and Crescent Road car parks.
The half hourly bus service will run from Wrexham General Railway Station to King Street bus station, Hope Street, High Street, Eagles Meadow, Market Street, and Queens Square.
It will operate between 09:15-14:45 BST, Monday to Friday, and 09:15-15:15 BST on Saturdays.
David Bithell, Wrexham council's lead member for the environment and transport, said the introduction of the pilot was in direct response requests to bring buses back to the High Street.