Faster broadband for Denbigh, Prestatyn and Ruthin, BT says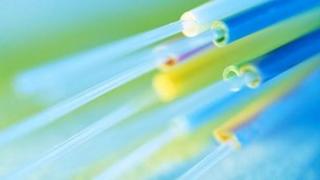 Faster broadband is now available to 19,400 homes and businesses in Denbighshire, according to BT.
The service provider says Denbigh, Prestatyn and Ruthin have access to download speeds of up to 20 megabits per second (mbps).
BT says the new service, delivered through copper lines, is more than double the speed previously available.
Consumer Focus Wales has previously said it is important for all areas to have broadband access.
BT said Dyserth will also be added to the faster broadband roll-out programme later this year.
It claims about 72% of homes and businesses in Wales will benefit from an upgraded exchange by spring 2013.
Ann Beynon, BT's director for Wales, said: "The technology is changing for the better the way we live and work, helping businesses work more efficiently and flexibly and find new markets."
However, she added that there was "still much work to be done".