Wrexham Premier Inn hotel approved with protection for Wat's Dyke monument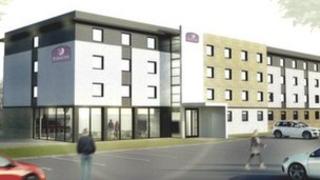 Plans to build a £6m hotel on a disused scrapyard close to Wrexham town centre have been approved by councillors.
The development of an 83-bed Premier Inn on Regent Street, near the town's main railway station, will create 33 full and part-time jobs.
Wrexham council's planning committee agreed conditions to protect an ancient monument, Wat's Dyke, and a colony of common lizards on the site.
Work is expected to begin in July and is due to be completed within a year.
It is the third significant planning application at Jacques yard in recent years.
Other recent plans for the site in Regent Street, Wrexham, include a residential scheme for 228 apartments in 2008, and two applications for extra care apartments.