Boxer dog Wilson finds lost tortoise Terrie in Mold undergrowth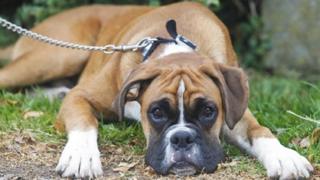 A 35-year-old tortoise missing for six months has been reunited with her owners after being found by a boxer dog.
Terrie the tortoise disappeared from home in Mold, Flintshire, in September.
No trace of her was found until two-year-old Wilson found her in long grass on a walk along the River Alyn with owners Rachel and Carl Worsnip.
The couple took Terrie to their vets and found she was microchipped, allowing her owners to be traced.
Wilson put his owners onto the missing spur-thighed or Greek tortoise, measuring about 30cm (12in) and weighing 2.5kg (5.5lb), during an evening walk.
Mrs Worsnip, 37, said: "He was just having a nose in the undergrowth. We didn't know what it was initially.
"Wilson was quite thrilled with himself. He was quite excited but he came away easily."
Warm weather
The couple decided to leave the tortoise at the spot but kept an on eye on her each night, with Wilson delighting in sniffing her down each time.
They found the tortoise late last month when Wales was enjoying unseasonably warm weather.
But when the temperatures began to plummet, the couple decided to take her to Grange Veterinary Hospital where vets discovered Terrie was in good health and had been 'microchipped'.
Mrs Worsnip said Terrie's owners were delighted to be reunited with their pet.
"I think they thought they had seen the last of her.
"The woman said she thought that was it, with it being over six months. She said she was about to dig up the flower bed to have one more look."
Mrs Worsnip called Wilson "a typical boxer, very mad, very loyal and inquisitive. He's lovely and really soft."