Better treatment promise as north Wales eye unit moves to Abergele Hospital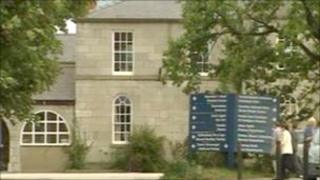 North Wales patients have been promised better treatment with the opening of a new eye unit at Abergele Hospital.
Officials say the specialist team will expand, with two surgical theatres and a macular treatment centre after moving from HM Stanley Hospital at St Asaph.
The unit will provide primary eye care, as well as treating out patients, day cases and offer emergency cover.
The final eye surgery took place at HM Stanley on 5 April, where the unit was based for almost 60 years.
The Betsi Cadwaladr University Health Board (BCUHB) says the new unit will be equipped with some of the latest technology.
The new unit will provide eye services to the residents of Conwy, Denbighshire and Flintshire with some specialist retinal surgery for the whole of north Wales.
Roger Haslett, the clinical lead for ophthalmology, said the move to Abergele would provide "better facilities for patients, with new theatres, wards and a macular treatment centre."
"It will take a little time for the team to settle in but we are confident that we can build on the previous service provided at HM Stanley for the last 58 years to provide an excellent ophthalmic service suitable for patient care in 2012 and onwards," said Mr Haslett.
Health officials say the change will mean the new unit can provide some of the latest technology.
Emergency treatment will be carried out at the Abergele unit, but patients needing urgent help are asked to phone the triage nurse in advance.
Out-of-hours emergencies should attend the emergency department at Glan Clwyd Hospital.
Meanwhile, the Minor Injury Unit (MIU) at Colwyn Bay Hospital is reopening on Monday.
The department had closed temporarily in January. The BCUHB was later criticised by the community health council (CHC) for giving insufficient notice of the shutdown.
At a meeting of the CHC in February, it was claimed that some local GPs were only told of the closure of the MIU at Colwyn Bay 24 hours in advance.