Footballers rape trial: Clayton McDonald denies forcing woman to have sex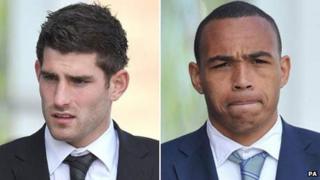 A footballer denies raping a woman at a hotel claiming he did not force her.
Port Vale defender Clayton McDonald and Wales and Sheffield United striker Ched Evans, both 23, deny rape at a Premier Inn near Rhyl, Denbighshire.
Mr McDonald told Caernarfon Crown Court that he met the 19-year-old woman in the street after a night out with Mr Evans, a childhood friend.
Both admit having sex on 30 May 2011 but the prosecution say she was too drunk to consent.
The jury has seen video interviews in which the woman, now 20, said she could not remember what happened and feared her drinks were spiked.
Mr Evans, of Penistone, South Yorkshire, who was also giving evidence, told police the woman agreed to have sex with him and Mr McDonald.
The jury heard how Mr Evans said the woman was not acting drunk or slurring her words.
The court heard that after visiting a number of bars, Mr Evans, Mr McDonald and friends ended up at a takeaway where there was a disturbance and Mr McDonald, who described himself as "a little bit drunk", decided to head for a taxi back to his hotel.
"I got to a corner and turned around and saw a girl walk up to me," he said.
"I said 'Hiya, where are you going?' and she said 'Where are you going?'
"I said I was going to my hotel and she said 'I'm coming with you'."
Asked by Lloyd Morgan, defending, how the complainant appeared, the footballer said she was "walking fine", holding a pizza box, and he was able to understand what she was saying.
"She was coming across very clear," he added.
'Attractive guy'
During the drive to the hotel in a taxi, Mr McDonald said he asked her name, where her friends were and if she had had a good night, and she replied to all his questions.
At the hotel, he said they walked in "linking arms" and went to his room.
Asked by Mr Morgan if he had forced her to do anything, the Mr McDonald replied: "No".
Mr McDonald said the pair began having sex and he said she was behaving "like she was enjoying herself", adding that she was awake throughout the sexual activity.
After about 10 minutes he noticed something at the window of the ground-floor room.
The jury was earlier told that, as the incident took place, Jack Higgins, an" associate" of the footballers, and another man Ryan Roberts, Mr Evans' brother, had watched through a window.
Video recordings found on Mr Higgins' phone showed he had been filming or trying to film the incident.
Mr McDonald told the jury he noticed them at the window.
"So I went to close the curtains and then I noticed that Ched had come into the room," he said.
He said Mr Evans asked to "join in".
"I asked her 'Can he join in?' and she said 'Yes'," he said.
Mr McDonald said he watched Mr Evans and the woman "for a little bit" and described her as "generally enjoying herself".
He then said he went to the bathroom before leaving.
"There was no point me being there. It's not really my thing to watch," he added.
Explaining how he asked the hotel receptionist to ensure the woman got home, he said: "She never had a handbag or a phone and I knew she wouldn't be able to phone anyone to come and get her."
'Good friends'
He met Mr Evans outside the hotel and they walked back to Mr Evans' mother's house, he said.
Mr McDonald, told the jury he met Mr Evans when they were aged about 10 and part of the Manchester City youth academy.
During this time they shared accommodation in Manchester for about 10 years and became "very good friends" and regularly holidayed and socialised together.
In cross-examination, Mr McDonald was shown CCTV footage which showed the complainant falling over in a kebab shop in his and Mr Evans' presence.
After suffering the "spectacular fall", Mr Evans appeared to step over the woman and shout towards Mr McDonald and a third footballer and friend, Javan Vidal.
In the footage, Mr McDonald was seen looking towards the woman after she fell, but he denied Mr Evans had shouted anything towards him.
Further CCTV images showed the complainant apparently staggering from side to side as she approached Mr McDonald from behind.
John Philpotts, prosecuting, asked him: "Do you agree that her movements are not those of a normal person?
"I am not suggesting you saw that on the night, but if you had found that young woman moving in that way would it have sent alarm bells ringing?"
Mr McDonald said: "I would not have been worried at all. Maybe it was due to the fact she had got high heels on."
Mr Philpotts asked McDonald if he understood the expression "on a mission".
He added: "As soon as you saw that girl, that was you, wasn't it?
"You were on a mission to take her back to that hotel."
Mr McDonald said: "No, I was not on a mission.
"It was not a situation where I needed to go out and get a girl, the situation just arose."
Mr McDonald denied he had been planning on group sex that night, but admitted he and Mr Evans had engaged in a threesome together in the past.
The trial continues.