RAF Sealand jobs and homes enterprise park plan gets go ahead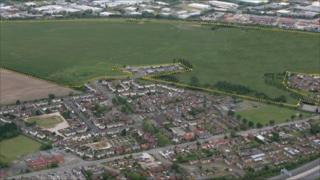 Plans have been approved which could bring thousands of jobs and more than 700 homes to a former RAF base in Flintshire.
The development at the old RAF Sealand site will include a retail and commercial park and will take up to 15 years.
The 247-acre site forms part of Deeside Enterprise Zone which is being backed by the Welsh government.
Councillors approved the outline plans at a meeting on Wednesday.
A report to a special meeting of the planning and development control committee said the enterprise zone was designated by Welsh ministers last September to "bring forward investment and new jobs, particularly in the manufacturing sector".
It says: "The site has the potential to play a major part in realising the aspirations for this area as a hub for future business investment and job creation and as a centre for advanced manufacturing excellence, research and skills development.
"The site is judged to have the potential to accommodate an estimated 5,000 of the 7,000 jobs target for the Deeside Enterprise Zone.
"This is crucially important as the enterprise zone has a major role to play in providing employment and supply chain business across north Wales and north west England and has the potential to bring major regeneration benefits to the Deeside area as a whole."
Deeside Industrial Park currently employs about 9,000 people.
'Nationally important'
Owned by developer Praxis Real Estate Management, the former RAF Sealand site forms part of what is known as the 400-acre "Northern Gateway" site which occupies about 3 million sq ft of employment, industrial and manufacturing space.
Flintshire council's regeneration department has previously described it as the county's main employment site for the next 15 years.
The outline planning application is for a mix of development including:
Storage and distribution floorspace - 280,000sq m
Manufacturing floorspace - 10,000sq m
Office floorspace - 9,000sq m
Retail - 4,645sq m, mainly local, including convenience
Clwyd-Powys Archaeological Trust says the site is nationally important as it became home in 1916 to a flying school which, during World War I, was requisitioned by the War Office becoming RAF Sealand In 1924.
The report said: "The site of the former Dutton's Flying School is an incredibly important historical location, effectively the origin point of the initial Royal Flying Corps and later RAF as a fighting force.
"The degree to which any traces of Dutton's aerodrome survive as sub-surface deposits is currently unknown as there have been no investigative works. "
The trust hopes the area can be excavated as part of the site's development.