Duchess of Cambridge hailed as Welsh scout numbers rise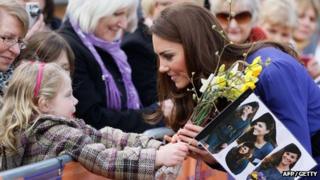 The Duchess of Cambridge's impact on scouting has been hailed as figures show a boost in Welsh scout numbers.
Some 549 new scouts joined in the last year, meaning membership had risen faster in Wales than in the rest of the UK, said the Scout Association.
It was announced in January that the duchess was to work as a volunteer with young scouts near her Anglesey home.
An association spokesman said: "People have been talking about the scouts since the Duchess of Cambridge joined."
The Scout Association said its new total Welsh membership of 16,836 had helped take the total number of scouts in the UK to 525,327, its highest this century.
The results of this year's annual census, released on Tuesday, marked the seventh consecutive year of the movement's expansion, it said.
The association attributed a large part of the growth to the number of teenagers joining in Wales, with 60 Explorer Scouts (aged 14-18) signing up in the past year.
Some 292 Explorer Scouts in Wales had also chosen to work as leaders in sections of the movement aimed at younger people, such as Beaver and Cub Scout packs, it said.
'Sends a message'
Earlier this year the Scout Association revealed the duchess, a former Brownie, would be teaching boys and girls - aged from six to 10 - a variety of skills including putting up tents and lighting fires.
She will also work as a volunteer in other areas of the UK.
Asked if the duchess's involvement in scouting had helped boost membership in Wales, David Morris, a spokesman for the association in Wales, replied: "Absolutely. It's great.
"Friends and colleagues have been saying that people have been talking about the scouts since the Duchess of Cambridge joined.
"There used to be a bit of a stigma about the scouts, that it was a bit dull and worthy and that girls were not allowed in. But with Her Royal Highness getting involved, that's got rid of that."
Mr Morris, of Clwyd Area Scouts, said the movement had been actively trying to attract more adult volunteers, but people were generally busier these days and did not think they could find the time to help out.
"The Duchess of Cambridge is obviously really busy in her work but can fit in with us when she can, so that sends a message out to people that it is possible for people to become occasional helpers," he said.
Mr Morris said many parents were concerned that their children were not getting the outdoor access they used to get, and that they wanted that.
"Scouting is a safe environment for children to explore outdoor activities."
Among teenagers joining the movement's Young Leaders scheme, were Chris, 14, from Wrexham.
"I help out at my local Beaver Scouts and it's great to see the smiles on their faces when we do an exciting activity," he said.
"I remember the fun I had when I was their age and being part of the team that gives something back is great."
"I'm also a member of an active Explorer Scout Unit. We're kayaking down the River Wye for three days in a few weeks time, and then in the summer we're going on expedition to Croatia."
Elliot Jones from Wrexham has just turned 18 and has become an adult leader.
He said: "I think more people are helping when they're 14 as they had Young Leaders helping them when they were a Beaver, Cub or Scout, and saw them as role models they aspired to be like."