Diamond Jubilee: Rhuddlan street party hit by £2,000 sign costs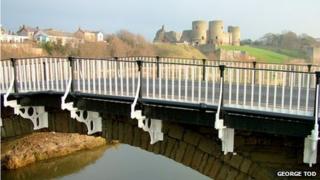 A Diamond Jubilee street party celebration is in the balance after organisers were told they face a £2,000 bill for road diversion signs.
Organisers say they were given the go-ahead to close part of the main road in Rhuddlan, Denbighshire, but have just learned they must pay for signs.
Without the signs, they estimated the party would cost £1,000 and are unsure if they can find extra funds.
Denbighshire council says sourcing signage is up to the organiser.
Rhuddlan Diamond Jubilee Street Party Committee was set up to organise the family fun day in June, including food and entertainment.
So far, about 40 other events are being planned around Wales as part of the celebrations.
In Rhuddlan, they have spent some of the £700 already donated to buy bunting, pay for leaflets and for the hire of equipment.
"Now we have been landed with this. It is too much," said Hazel Morris, one of the organisers.
She said local businesses had been generous and schoolchildren held a non-uniform day to help boost the fund before the signage costs became apparent.
Several roundabouts
"If we have to cancel we will have to pay it all back," she said.
Mrs Morris, who set up the committee with three friends, said they had received the green light to close the road after satisfying regulations, speaking with council officials, bus companies and the emergency services, and started raising the money needed to host the event.
Then, last week, after meeting officials at Denbighshire council she says they were told they will be expected to pay for signs during the planned road closure.
The diversions affect a number of roads, including several roundabouts, which has driven up the signage costs.
Mrs Morris said the committee had asked to borrow signs from the council and that an alternative site suggested by the council was not appropriate.
"They are making an easy job difficult," she said.
A Denbighshire council spokesperson said: "In line with recommendations from the UK government, Denbighshire has waived the £400 application fee for all closure applications. However this one is more complicated due to the strategically important location that they wish to close.
"We have worked with the organisers to find an alternative site for a street party which doesn't involve closing the key route through the village and requiring such a large amount of signage.
"The organisers have been advised that sourcing and organising the signage is their responsibility."