Vote 2012: Social services across Wales face tough challenges ahead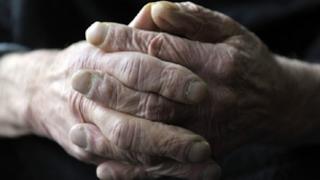 BBC Wales is looking at local issues in some of the key council battlegrounds ahead of the council elections on 3 May.
Social services across Wales have a tough challenge ahead.
Local authorities are faced with an ageing population, there are increased referrals in children's services and, therefore, greater demand on services.
And all against a backdrop of squeezed budgets.
For Mario Kreft, the chief executive of Care Forum Wales, one of the biggest concerns is that local authority social care budgets have not increased in line with the huge costs of providing residential care.
Wrexham, Flintshire and Denbighshire councils have agreed a "transparent care home fee structure" starting at £430 a week.
But Mr Kreft said that was about £100 a week too little.
He said this would lead to fewer placements in the system. Demand is on the rise and so budgets need to increase significantly.
But local authorities have shifted in their approach to care for the elderly and disabled.
The priority now is to keep people independent in their own homes but with support.
Ticking timebomb
Mr Kreft said it was cheaper and an important part of the social care, but it also needed to be appropriate for the individual. If it was not, there was a danger of social exclusion.
Dementia care is another ticking timebomb for local authorities.
According to Care Forum Wales, health boards and local authorities must find extra resources and work together to look after the increasing number of dementia patients.
But there is a question mark over where the extra resources will come from.
Wrexham received a local government revenue and capital settlement of £184m for 2012-13. This was a 1.2% increase on last year.
The adult social care budget for this year has gone up by just over £1m to just over £41m.
But with Wrexham's population of 130,000 people, about 20% of whom have a disability, it still has to make that money stretch.
It seems despite improved partnership working, Wrexham will have to continue to rely on the voluntary sector.
More crucially, it will have to rely on unpaid carers and relatives.