Michael Crumplin's Peninsular War collection at Wrexham Museum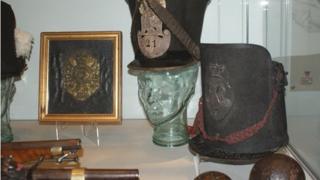 A private collection has gone on show in Wrexham of rare artefacts from the 19th Century Peninsular War involving Wellington and Napoleon's forces.
The display also includes memorabilia from Welsh soldiers involved in the war to free Portugal and Spain from French occupation.
The collection has been gathered over 40 years by retired Wrexham Maelor hospital surgeon, Michael Crumplin.
"To War With Wellington" goes on show at Wrexham Museum from Monday.
It tells the story of the British Army, including the Royal Welch Fusiliers, who waged a bloody campaign, aided by the Portuguese and Spanish armies and guerrilla forces, against Napoleon's generals.
It is the first time the collection has gone on display together in a public museum.
The collection includes:
A ticket to Nelson's funeral procession
A silver plate captured from the baggage train of the King of Spain after the battle of Vittoria
Muskets, pistols and sabres used by the French and the British as well as a cannonball fired at the Battle of Waterloo.
Also in the exhibition is a helmet and sabre belonging to Henry Ellis Boates of Overton, Wrexham, while serving in the Peninsular War and at Waterloo.
The exhibition also includes a short film on the medical aspects of the war in which over 30,000 British soldiers died from disease - three times the number said to have been killed on the battlefield.
Mr Crumplin said: "I have been collecting artefacts and ephemera from these wars all my adult life - really to enhance my enthusiasm, and enjoyment of the subject.
"Collections must be used and not hidden away, and every object tells a story.
"My passion for an interest in the human aspects of conflict stems from a life in medicine, pride in our armed forces and a fascination for human endurance and innovation, particularly during these long French wars.
"One of the very few 'benefits' of combat is the chance to advance battlefield medicine. We see this par excellence in Afghanistan today in 2012."
Wrexham Museum access and interpretation officer Jonathan Gammond described as remarkable the story of the Peninsular War and the skill with which Wellington led his troops.
"In this exhibition you can come face to face with objects that are part of this amazing story," he said.
"As soon as I saw Michael's collection, I knew we had the makings of a great exhibition."
The exhibition opens on 30 April and runs until 3 September with further artefacts to be added over the coming months along with evening talks, re-enactment days and guided tours.