Frongoch ties to Irish Easter Rising remembered on Saturday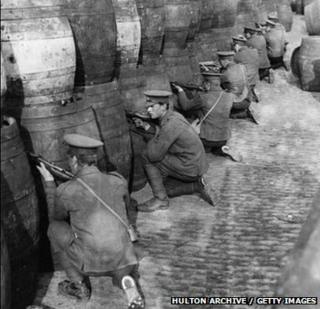 A ceremony has been held to remember 1,800 Irish men interned in two camps in Gwynedd after the 1916 Easter Rising.
They were held at Frongoch, near Bala, after an uprising of Irish republicans in Dublin against British soldiers.
Around 50 people from Ireland attended Saturday's event.
Frongoch is regarded as the "university of revolution" because many who "graduated" became key leaders in the Irish struggle for independence.
Among the men interned was Michael Collins, the Irish revolutionary leader.
In Frongoch on Saturday, Welsh author Lyn Ebenezer launched a new version of the book Frongoch Camp 1916 and the Birth of the IRA.
He said Frongoch was picked because its location was remote.
But far from putting down the uprising, the people interned "regrouped" and formed strategies to take their fight forward while being held.
"They were not considered the most dangerous," he said.
"They were all hemmed in together in one place.
"The whole place was run on the basis of a university with a curriculum teaching them the rudiments of drilling, military history," he said.
"There is no doubt that Frongoch was the turning point."
Saturday's event was attended by local people and members of the 1916-1921 Club, formed in the 1940s to heal the wounds after the Irish Civil War in 1922-23.