Wrexham help group Avow concludes internal review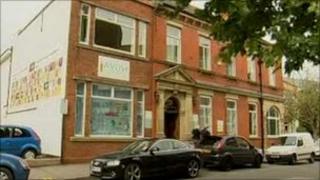 An organisation helping voluntary groups says it has addressed criticisms raised at an industrial tribunal after holding an internal review.
The Association of Voluntary Organisations in Wrexham (Avow) took action after the tribunal said that its grievance processes were a "sham".
Avow's core funder, the Wales Council for Voluntary Action, welcomed the review findings.
Bosses said they take any form of criticism very seriously.
Avow said it has received letters from the Charity Commission and the WCVA, Wales Council for Voluntary Action, acknowledging that the organisation has addressed issues identified in the tribunal judgement last August.
Former worker Genny Bove's claim for unfair and constructive dismissal was upheld by the tribunal and she was awarded an undisclosed sum.
It followed her attempts to get changes to the lights in the Avow office where she worked because she said they triggered her problems with migraines.
The tribunal also upheld Ms Bove's claim of disability discrimination and direct discrimination and victimisation.
Trustees
Avow, based in Egerton Street, Wrexham, is one of 19 organisations across Wales which provide support to voluntary and community groups, and it also administers grants schemes.
Harry Iles, head of regulator the Charity Commission in Wales, said: "It is evident that the trustees have recognised the seriousness of the criticisms contained in the employment tribunal's reasons document, and the necessity of thoroughly reviewing and strengthening the charity's governance and operating procedures."
WCVA, which is responsible for the distribution of Welsh government funding to the voluntary council network, said it was also satisfied with the review to ensure "systems and procedures" are in place for Avow to "deliver responsibilities and obligations in the future".
Avow chair Mervyn Rosenberg said trustees and management take any form of criticism very seriously.
"We would also like to confirm that all services and support provided by Avow have all continued and we are committed to ensure these continue," he said.
After the ruling was made public in early September, Avow said the matter took place in 2008 and "many changes have taken place within and around Avow in the intervening time".