Diamond Jubilee: Rhuddlan street party to go ahead as signs fee waived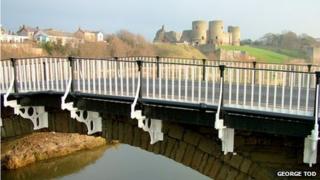 Diamond Jubilee street party organisers are celebrating after a council agreed to provide road diversion signs, allowing the event to go ahead.
Friends in Rhuddlan, Denbighshire, raised £1,000 for the party, but it was in doubt over an extra £2,000 bill for the signs for several affected roads.
But now Denbighshire council has agreed to provide them, and a traffic firm says it will deal with the diversions.
"Now we are all on track," said Hazel Morris, one of the organisers.
Rhuddlan Diamond Jubilee Street Party Committee was set up to organise the family fun day in June, including food and entertainment.
About 40 other events are being planned around Wales as part of the celebrations.
In Rhuddlan, they had spent some of the £700 already donated to buy bunting, pay for leaflets and for the hire of equipment before learning it was their responsibility to source and pay for signage.
They plan to close part of the village High Street for dozens of villagers to enjoy the day.
But the planned diversions will affect a number of roads, including several roundabouts, that drove up the signage costs.
Green light
Mrs Morris, who set up the committee with three friends, said they had received the green light to close the road after satisfying regulations, speaking with council officials, bus companies and the emergency services, and started raising the money needed to host the event.
Then, last month, after meeting officials at Denbighshire council, she said they learned they were expected to pay for signs during the planned road closure which threw the event into doubt due to the unforeseen costs.
Now, the council has said it will provide the signs and a traffic management firm has agreed to handle the diversions.
"We are sorted," said Mrs Morris. "We are happy now."
A Denbighshire council spokesperson said: "In the spirit of the Queen's Diamond Jubilee and given the level of support for the event in Rhuddlan, we've worked with the organisers to try and find alternative solutions as they have chosen to organise their party in such a strategically important through-road, right in the centre of the village.
"In line with recommendations from the UK government, Denbighshire has waived the £400 application fee for all closure applications.
"The government guidance also says that councils may loan out signs for jubilee events and this is what we have done, although they still have to have an approved contractor to set out the signs."