Rhyl railway station plans go to Denbighshire council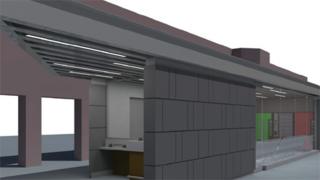 Plans have been drawn up to transform Rhyl's Victorian railway station.
There has been criticism of the appearance and facilities at the station in recent years. Now, Arriva Trains Wales has submitted plans to Denbighshire council to make the station more appealing to visitors.
Work will start when funding has been confirmed by the Welsh government.
The main building, footbridge, canopies and a red telephone box on one platform are protected and Grade II-listed.
The station, which opened in 1848, was once a major artery bringing people and goods into north Wales.
It is also said to have been a catalyst for Rhyl's development as a tourist town in the 19th Century.
Integration
However, the application which can be viewed on Denbighshire council's website, concedes that the station has "significantly reduced from its peak".
The forecourt, incorporating a new-look bus stand, has recently been redeveloped.
Now, the plan is to "transform Rhyl station to become a true interchange" to provide integration with the bus network and cyclists.
The application points out that extensive regeneration work is going on elsewhere around the town which includes redevelopment of the harbour area as well as demolition of old and rundown properties near the front.
"This expansion of the station facilities shows the growth of Rhyl as a tourist destination in recent years," said the report.
The application has just been formally submitted to Denbighshire council and will be considered by councillors soon.