Gabor Sarkozi murder trial: Jurors visit Meliden death scene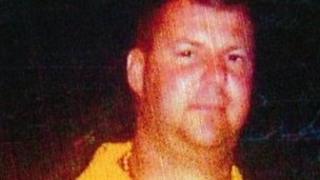 The first witnesses have given evidence in the trial of two men who deny beating a take-away delivery driver to death in Denbighshire.
Gary Bland, 41, and his nephew James Siree, 22, both of Rhyl, deny murdering Gabor Sarkozi, who worked for a take-away at Meliden near Prestatyn.
Mr Sarkozi, 38, a Hungarian national, was attacked on 18 October last year.
Witnesses told Mold Crown Court they had seen two drunken men nearby on the night Mr Sarkozi died.
Jury members spent some time visiting Meliden on Wednesday and were shown where the badly injured body of Mr Sarkozi was found.
He was only working at the Happy Garden Chinese take-away to cover a colleague who was off sick.
Mr Sarkozi was punched, kicked and stamped to death.
Jurors were also shown various other locations in the village which will feature during the three week trial.
Two attacks
The court hearing resumed mid-afternoon and the prosecution began calling the first of a series of witnesses who saw the dead man or two men, alleged to be the defendants, on the night Mr Sarkozi died.
Prosecution witnesses James Divall, Paul O'Neill and Anthony Sellers told the jury how on 18 October 2011 they had been to The Star public house in the village to watch a Manchester United Champions League match.
They then called at the Happy Garden where Mr Sarkozi worked the night shift delivering meals.
Mr Divall and Mr O'Neill later saw two men walking up the road as if they were drunk, making exaggerated movements.
The prosecution say those two men, wearing hooded tops, were drunk and were later responsible for two attacks on Mr Sarkozi.
All three witnesses said that they had also seen two other men near the chip shop, wearing dark track suits with hoods, that night.
Elwen Evans QC, prosecuting, alleged the defendants "walked off nonchalantly" and went across a field before they were arrested a short time later by police.
They had blood on their clothing and footwear which forensically linked them to a kicking assault on Mr Sarkozi, she said.
When interviewed Mr Siree said they had been acting as Good Samaritans, and were merely trying to help the injured Mr Sarkozi.
But he then said 'no comment' and Mr Bland made no comment from the start, she added.
The trial before Mr Justice Griffith Williams was adjourned on Thursday because of the public sector strike, involving prison officers, and will resume on Monday.