Torrent of water washes Wepre Park pathway away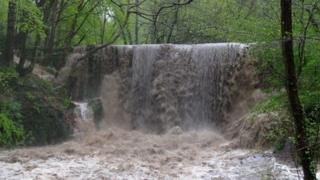 Volunteers have been helping to rebuild a pathway through a Flintshire country park said to be hit by one of the worst cases of flooding in the area.
Rangers say water levels reached new heights at Wepre Park, Connah's Quay, due to the prolonged rain in April.
They have just spent four days rebuilding paths and removing thick mud off a wooden board walk.
The park's dam was overcome with water, flooding the valley floor, and washing up eels on a nearby football pitch.
Flintshire council senior ranger Gilly Seddon said: "Waters reached a height that regulars using the park have never witnessed before.
"What had been a trickle of water coming over the dam quickly became a torrent that could be heard throughout the park."
She said Wepre Brook swelled to fill the valley floor from one end to the other.
The park is popular with families and walkers and is a haven for wildlife.
"Along with all the hard work that had to be done, eels had to be scooped off the football pitch," said the ranger.