Diamond Jubilee events in Wrexham, Flintshire and Denbighshire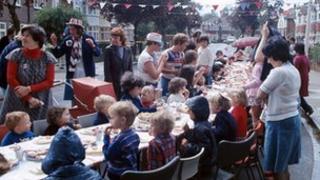 Dozens of community street parties are being held across north east Wales to mark the Queen's Diamond Jubilee.
Town centre celebrations have also been organised in Wrexham, Flintshire and Denbighshire on Monday and Tuesday.
Other communities are lighting beacons with the main one in the area erected on the summit of Moel Famau, near Mold, as part of a chain around the UK
Wrexham council has had 15 street party applications, with about a dozen in Flintshire and six in Denbighshire.
A four-day jubilee event is under way at Rhyl's Marine Lake, Denbighshire, which started on Saturday.
And a party starts at nearby Rhuddlan High Street on Monday from 14:00 BST after organisers won support when their event appeared to be in doubt over a £2,000 bill for road diversion signage.
In Flintshire, the town of Buckley is hosting live performances from local bands as well as a 50s fashion show and vintage vehicle rally on Monday.
Another town-wide centre celebration is being held in neighbouring Mold on Tuesday after a grant from the Big Lottery Fund with backing from Mold Town Council and local businesses.
Mold Celebrates, which take place between 10:00-22:00 BST, has a 50s theme with Mold High Street closed to traffic like the day the Queen and the Duke of Edinburgh visited the town in June 2003.
Daniel Owen Square will be transformed into an outdoor dance arena, with a tea dance in the afternoon followed by a rock and roll party later prior to a light show.
In Northop, the village is also having its own party on Monday afternoon along with other Flintshire communities like Broughton and Babell.
Wrexham Diamond Jubilee events include villagers in Overton celebrating with a beacon being lit by Overton Scouts, one of over 3,000 being fired up on the evening.
The event also marks the 20th anniversary of the time the Queen visited the village for the 700th anniversary of royal charter granted by Edward I.
Bell ringers at St Chad's church in Holt ring out throughout Monday when the Wrexham village light their own beacon.
Ringers have been sounding the church bells all over the bank holiday weekend along with others around the UK.
Elsewhere, Flintshire and Denbighshire councils are lighting the area's highest beacon on top of Moel Famau, near Mold, on Monday evening at a special event at the Jubilee Tower .
The monument was built in 1810 to commemorate the Golden Jubilee of King George III.
Buckley Town Council is providing all the schoolchildren with a special medallion as part of the town's celebrations as well as organising a number of street events on Monday.
In Denbighshire, Clwyd and Gwynedd Army Cadet Force with over 40 detachments across north Wales, is also lighting a jubilee beacon on Tuesday at Kinmel Park Training Camp, near Rhyl, involving over 125 cadets and 40 adult volunteers.
At Rhyl, the jubilee event started on Saturday and other events include a family picnic, live entertainment and walks.
Meanwhile, Holywell held a town centre celebration on Saturday.
One planned in Trelawnyd, near Prestatyn on Saturday was postponed to Monday due to poor weather conditions.
Other events were held in Connah's Quay and Flint on Sunday.
See all the latest Diamond Jubilee news and features at bbc.co.uk/diamondjubilee