Concern at Ruthin Festival alcohol ban after previous anti-social behaviour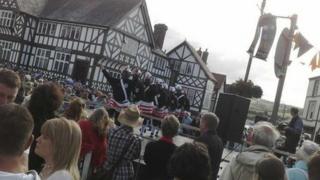 Plans to ban the drinking of alcohol at Ruthin Festival could adversely affect it say organisers.
They say the ban will change the tone of the day as in the past festival-goers were allowed to drink alcohol whilst watching the acts.
Denbighshire council says due to previous anti-social behaviour by a minority an 'alcohol-free' condition has been placed on the licence.
The Top of the Town event in St Peter's square marks the end of festival week.
Events run from 25 June to 30 june and festival chairman Gruff Hughes said the ban could change the whole tone of the final day.
The ban could also adversely affect the trade in the town's public houses, as previously customers dipped in and out during the day carrying their purchases to enjoy in the square, he added.
"We've had to accept the condition because otherwise there would be no festival," he said.
Anti-social behaviour
Mr Hughes said he hoped festival-goers would understand and co-operate with the change.
"I hope everything goes well. We're on from two until eight, with singing and dancing in the square. Then we clear everything before nine.
"Audiences have been increasing each year as for the 17 years of the festival we've been blessed with fantastic weather."
Mr Hughes said it appealed to a wide cross-section of age-groups with children, young people and older people all attending.
"I hope everything goes well again, because at the end of the day we're all volunteers doing this for the benefit of the area," he added.
A spokeswoman for Denbighshire council said for the past few years there had been problems with anti-social behaviour by a minority of people.
"Following concerns raised by some local people, and North Wales Police, in response to this year's premises licence application, we have held discussions with the event organisers."
She added that as a result of these talks a condition will be placed on the licence stating that the event must be promoted clearly as a non-alcohol, family orientated event.
"Whilst we appreciated some people may not be happy with this condition, we are doing this in the interests of reducing anti-social behaviour," she said.
Inspector Gary Kelly from North Wales Police said officers already had powers to seize alcohol where appropriate "and this includes the area of the festival finale event".
"Use of such powers is specifically designed to prevent crime and disorder," he added.