Calvert family gang jailed for Thailand heroin plot in north Wales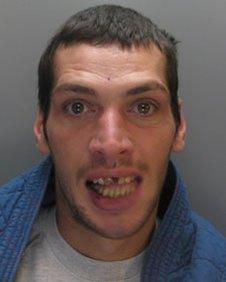 Members of the same family who tried to import heroin from Thailand to north Wales have been jailed for their involvement in the plot.
Richard Giuseppe Calvert, 32, from Connah's Quay, Flintshire, was jailed for seven years at Mold Crown Court.
His brother Simon Calvert, sister Maria Calvert and mother Margaret Rose Calvert were also given jail terms.
Another man, Darren Hanashi from Cardiff, was jailed. All had admitted various offences.
Sentence on another man who admits money laundering was adjourned because of ill health.
A further defendant denies money laundering and is yet to stand trial.
The court heard how Giuseppe Calvert, known as "Pepe", flew to Thailand to obtain 1kg of heroin to be imported to the UK via Amsterdam.
But police were aware of the plot after carrying out covert observations and placing secret listening devices in the Calvert family home in Connah's Quay as part of Operation Boating, run from November 2010 to June 2011.
Calvert's two couriers were arrested at Liverpool airport carrying half the consignment, and he sold the other half in Amsterdam at a loss.
Giuseppe and Simon Calvert, 37, both admitted conspiracy to import heroin between December 2010 and June 2011, and a second conspiracy to launder money.
Their sister Maria Calvert, 35, was sentenced to three years for money laundering and being involved in the supply of heroin.
Their mother Margaret Rose Calvert, 63, was jailed for 21 months for money laundering but will be released immediately because of the time she has served on remand.
Passing sentence, Judge Niclas Parry said Giuseppe Calvert clearly played the leading role.
"You were the organiser, the buyer, you had expectations of substantial financial gain," he said.
"This was a conspiracy to import drugs from south east Asia to poison the streets of north Wales, for the sake of substantial profit.
"Members of your own community would have been caused untold misery.
"The harm of heroin is a cause of enormous public concern. The public expect that when those who are at the heart of making it available are caught, that they are dealt with in a way that deters others."
The judge added that the drugs operation had failed because of "an expensive, time-consuming and meticulous police operation for which the public of north Wales should be very grateful."
Det Con Jon Russell of North Wales Police said: "This team were responsible for poisoning the streets of north Wales with heroin.
"We welcome the sentences received today as we strive to make north Wales a safer place.
"These will act as a deterrent to others involved in such criminality. "