Zandra Rhodes to mentor fashion designer Susan Burne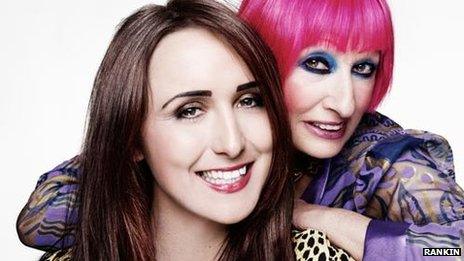 An aspiring Wrexham fashion designer has won a Prince's Trust competition to work with Zandra Rhodes.
Susan Burne, 27, was made redundant and out of work for four months when she asked the youth charity for help to get herself back into work.
She is now due to visit Rhodes' London studio to work on a new range of clothes with help from her design team.
Rhodes is one of several famous people helping the trust's new Tomorrow project to support young people.
Miss Burne was picked as finalist for the mentor project and had to go to London to be interviewed by panellist including Rhodes.
She described the opportunity as fantastic to learn from someone like Rhodes who has designed for celebrities such as Helen Mirren and Kylie Minogue as well as Elizabeth Taylor.
"But being chosen by one of Britain's most influential fashion designers is such a privilege," said Miss Burne who now runs her own business, Memoir Vintage clothing, following help from the charity.
The intention is that the pair will work together to produce a women's fashion item to be sold in shops for the project.
Rhodes has also agreed to help Miss Burne further.
"Susan will come to visit me in my studio in London and together we will discuss the direction that she is to go and what help and advice the staff in my studio can give her," she said
Other celebrities involved in the Tomorrow campaign include designer Wayne Hemingway and photographer Rankin who took photos of Miss Burne with Rhodes.
"I got involved with the Tomorrow campaign because I think it is vitally important to help young people get onto the rungs of the ladder," said Rhodes.
"They are the success of tomorrow," she said.
Related Internet Links
The BBC is not responsible for the content of external sites.