Search dog survived for 14 days on grass and rain water whilst caught on fence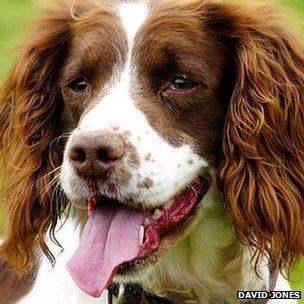 A highly trained rescue dog survived for 14 days living off grass and rain water after she was caught in a fence.
Spaniel JoJo, six, had gone missing whilst chasing a rabbit and no sign was found of her despite the efforts of owner David Jones.
One of the other dogs from the International Training Centre Wales found her on Saturday.
The six-year-old had been caught in a fence with just her front paws touching the ground.
"One of the other dogs saved her life," said Mr Jones.
He added that JoJo had run after a rabbit whilst on a walk near his home at Penmaenmawr in Conwy.
"Usually if she does that she's home in half and hour, but she never came home.
"Everyone was looking for her, day and night, but just couldn't find her."
JoJo has been involved in searches on Saddleworth moor - where one victim of murderers Ian Brady and Myra Hindley has never been found - and in Northern Ireland.
Mr Jones said he feared she would die a lingering death trapped somewhere, or that she might have been stolen.
"One of the gun dogs found her on Saturday, he went into the bushes and barked once.
"She was hanging on a fence with just her front paws touching the ground, she'd eaten all the grass around her and I think the heavy showers we've been having gave her something to drink."
Mr Jones, who runs a kennel at Abergwyngregyn near Bangor, Gwynedd, as well as training dogs for various search and rescue duties, said JoJo is "just skin and bones" after her ordeal.
"She's been given antibiotics and today she's had pilchards and milk," he said.
"It's not what she's worth, because her training is worth around £9,000, I just didn't want her to linger, and have an awful death.
"She's not out of the woods yet and will need physio on her back legs, but at least now she is taking on fluids," he added.
Related Internet Links
The BBC is not responsible for the content of external sites.