Alyn Waters Country Park: Wrexham council plan to plug leaking pollutants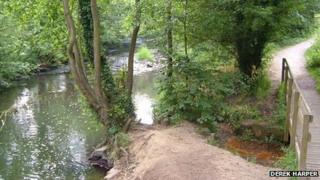 Plans have been made to plug pollutants leaking at a closed section of a country park which is partly built on a former landfill site.
Wrexham council called in experts to decide how best to seal the area on the Llay side of Alyn Waters Country Park.
The council says there is no risk to public or wildlife from the leachate at the site, which was originally capped in 2001.
About 22 of approximately 400 acres have been affected.
Now plans have just been submitted for the authority's planners to consider.
Monitoring equipment
The application says contractors plan "extensive capping" at the site, associated drainage, pipework and installation of monitoring equipment.
"The proposed scheme is a long-term remedial solution to the ongoing generation of leachate from the waste mass," says the planning document available to view on the Wrexham council website.
A report councillors last year said re-capping could cost between £1m-£10m.
But if left, the council fears contamination of the River Alyn.
Tests showed the cap has not been working properly and rainwater is entering the site, producing higher than expected leachate levels.
The council said the leachate was removed regularly, but there was evidence it had "overtopped" into surrounding land at least once.
Councillors will consider the application at a later date and work could start by the summer and take about five months to complete.
A Wrexham council spokesperson said the work will involve providing a seal to prevent rainwater from entering the waste at vulnerable locations.
A perimeter drainage system will also be created to take water away from the site.
He said: "The majority of the park will remain open, including the visitor centre, whilst works are ongoing.
"There is no intention to remove the existing clay cap, expose areas of old waste, or reopen the site to accept more household waste."