Holywell town councillor claimed dead wife's benefits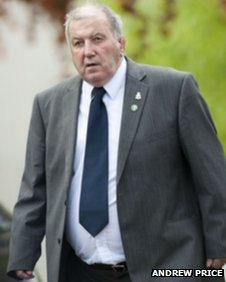 A town councillor fraudulently claimed more than £20,000 of benefits in his wife's name for nearly two years after she died, magistrates have heard.
Michael Mills, 64, a member of Holywell town council in Flintshire at the time, was caught following a tip-off.
Investigators found that his wife Brenda died in January 2010 but kept observations as he went to the Post Office to claim her benefits.
Mills admitted 14 fraud charges and will be sentenced at a later date.
Flintshire magistrates heard that the couple had been married 44 years but that Mrs Mills had been extremely ill for the last five years of her life, ending her days in hospital.
The court heard that the retired miner from Greenfield felt guilty at agreeing to switch off his wife's life support machine.
Unable to come to terms with the loss, he carried on life as normal, claiming benefits and paying the household bills.
Prosecutor Henry Hills said that the Department of Work and Pensions received anonymous information that he was continuing to claim his dead wife's benefits.
Checks showed that retirement benefits of £40 a week were still being paid out in her name together with £402 a month disability living allowance - but checks with the registrar showed that she died on 23 January 2010.
Observations showed that he was attending the Greenfield sub post office weekly, and post office records showed he was still claiming benefits as a married man caring for a disabled wife, as well as her benefits.
After Mills was arrested in January this year, it also emerged that he had failed to disclose his miner's pension.
Mr Hills said that the defendant had been overpaid £21,357 - made up of £2,089 pension credit, £5,239 carer's allowance, £4,066 state retirement pension and £9,962 disability living allowance.
Brian Cross, defending, said Mills had served his local community for 20 years, helping many people in need, and felt guilt for the death of his wife.
"He faced that decision of whether or not the machine should be switched off," said Mr Cross.
"He felt very guilty about that and went into a state of shock.
"In his own words he was in a trance like state.
"He is genuinely remorseful and wishes to apologise for his behaviour."
Mills was granted unconditional bail pending sentence.