Morrisons and FTS Hatswell create 120 jobs on Deeside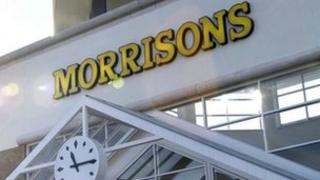 The expansion of two companies in Deeside, Flintshire, will create 120 jobs with financial support from the Welsh government.
Retailer Morrisons is creating 90 jobs with a £6.4m investment in its Farmers Boy Deeside fresh meat plant.
Meanwhile, haulage company FTS Hatswell is creating 30 jobs with a £1m investment in new premises.
The Welsh government, which contributed investment to both projects, called it a "confidence boost to Deeside".
The fresh meat plant currently supplies Morrisons with sliced meats, but it said the investment would allow it to widen its product range and supply all 477 UK stores.
The Welsh government contributed £635,000 to the expansion of the plant and a further £150,000 to the expansion of FTS Hatswell.
Fund doubled
All the Welsh government investment came from its economic growth fund, which Business Minister Edwina Hart said was used "to support high performing companies in all those parts of the economy that can create employment, wealth and a sustainable Wales".
She added: "I am pleased the Welsh government is able to provide the financial support to businesses that want to grow and create jobs which is vital in stimulating the economy."
The fund, which aims to stimulate economic growth, was launched in December of 2011 and initially offered companies the chance to apply for a share of £15m.
However, a huge number of applications prompted the Welsh government to double the fund in February.
Both Conservatives and Plaid Cymru welcomed the move because of the difficulties businesses face in securing loans from banks.
However, the Federation of Small Business in Wales raised concerns over the fact businesses had to be come up with match funding, potentially limiting access to the fund for smaller firms.
When announcing the increase in the fund, Mrs Hart said the extra money would create and safeguard 1,200 jobs and any concerns raised were being taken on board.