James Siree denies confessing to Gabor Sarkozi murder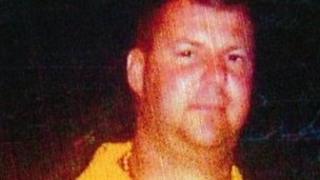 A man has denied confessing to the murder of a takeaway food delivery driver in a phone call to his girlfriend.
James Siree, 22, and his uncle Gary Bland, 42, both of Rhyl, Denbighshire, both deny murdering Gabor Sarkozi in October last year.
Mr Siree told Mold Crown Court that he did not attack Hungarian Mr Sarkozi.
But the prosecution claims the men attacked him twice, and punched, kicked and stamped on him.
The alleged attack took place in the village of Meliden, near Prestatyn, on 18 October last year.
At the start of the defence case, Mr Siree told the jury that rather than attacking Mr Sarkozi, 38, he and his uncle had helped him after finding him already injured.
He also denied telling his girlfriend in a phone call that he had murdered a Hungarian man and had "stamped him clean out".
Gordon Cole QC, defending, asked Mr Siree about the phone call and he said at the time he and uncle were messing about, play fighting, laughing and joking.
"I told her she would not be happy with me because I had been drinking and when she saw me the next day I would be hungover," Mr Siree said.
"I told her I had blood on my trainers but it was nothing to worry about. She asked what had happened and I said it was not my blood, we had just helped this Hungarian guy."
When she rang back his uncle had him in a head lock and Mr Siree said that he shouted "get off me".
Mr Cole asked him if he had said anything about murder during the telephone conversation.
Mr Siree said that she could have still been on the phone when he told his uncle that he could murder a spliff, but he did not know.
Stamped
He could not hear his girlfriend properly because of the strong winds and low signal.
Mr Cole asked him: "Did you say that you had murdered someone?"
Mr Siree replied: "No".
He also denied saying that he had stamped someone out.
The jury has heard allegations that Mr Siree and Mr Bland hid in an alley before making their way across a field and were arrested.
But Mr Siree denied being in a field before their arrest.
Earlier in his evidence, Mr Siree said that he and his uncle were walking home from Prestatyn through Meliden when they saw a man lying on his back with blood on his face.
The court heard that Mr Siree asked him if Mr Sarkozi was alright. They did not receive a reply initially, and they picked him up and supported him because he could not stand.
The man refused an ambulance saying he did not like them, and said initially that he wanted to go to Rhyl, the court heard.
They started walking but he then he said he wanted to go the chip shop and pointed towards Meliden.
The trial continues.