Gabor Sarkozi murder trial: Gary Bland 'tried to help'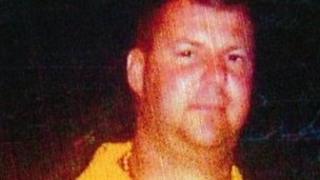 A second man accused of killing a take-away delivery driver has told a jury that he tried to help the victim.
Gary Bland, 42, and his nephew James Siree, 22, both of Rhyl, Denbighshire, deny murdering Gabor Sarkozi in October 2011.
Mr Bland denied attacking Mr Sarkozi, who was found with facial injuries outside the Happy Garden chip shop at Meliden, near Prestatyn.
The jury in the trial at Mold Crown Court is expected to retire on Monday.
On Tuesday Mr Siree denied "making up stories" to cover his role in a joint attack on the man with his uncle.
Giving evidence on Wednesday, Mr Bland, a former factory worker, barman and milk delivery driver, said he was "pretty drunk" on the night in question, having drunk vodka and lager.
While he could remember some things about the night, others were a complete blank, he said.
The court has heard that Mr Sarkozi was found on the pavement after he had been kicked and stamped on.
Mr Bland said he and Mr Siree came across the injured man while walking home from Prestatyn towards Rhyl.
Mr Sarkozi was lying on his back on the pavement and his face was covered in blood, he said.
Mr Bland said he and Mr Siree got him up, tried to help him and initially started to walk towards Rhyl.
'Propped him up'
But, he added, after Mr Sarkozi indicated he wanted to go to the chip shop at Meliden, they walked him to the village and left him there.
Mr Bland said that he propped him up against a wall and saw him stagger away towards the chip shop.
They had walked off in the direction of the Dyserth Bends area, he said, and had not noticed any confrontation or commotion.
Bland said he and Mr Siree had offered to get an ambulance but Mr Sarkozi had refused.
He had not thought of dialling 999 or knocking on a local house door to get help.
Giving evidence, Mr Bland said that, with hindsight, he regretted not calling an ambulance and said he should have done more to help Mr Sarkozi.
"I've racked my brains every single day since trying to recall exactly what happened that night," he said.
Mr Bland said that he had never drunk a bottle of vodka before but said that he had been that drunk previously.
The jury was told that the prosecution and defence closing speeches would be completed on Thursday, and then Mr Justice Griffith-Williams would begin his summing up.