Window memorial to Gresford colliery disaster's 266 miners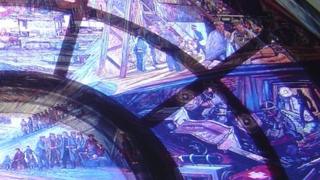 A new memorial marking a disaster in which 266 miners' died has been unveiled in Wrexham.
Families of men who perished in the Gresford disaster in 1934 attended a special ceremony at Llay Miners' Heritage Centre on Thursday evening.
The Gresford Window is a stained glass mural depicting colliery scenes below which are the names of the miners.
Heritage centre secretary Vic Tyler Jones said the window was a fitting tribute.
It was commissioned as a reminder of the incident at the mining museum.
"Gresford disaster was the worst disaster to occur in the coal mines of north Wales and we insist it will not be forgotten," he said.
The stained glass replicates the Gresford Disaster Mural in Gresford church.
A separate memorial at Gresford, which includes pithead winding gear, also carries the names of all those who died.
A dedication ceremony was led by Canon David Griffiths with a blessing from Canon Pauline Walker from Llay at 19:00 BST.
Space inside the gallery is limited so only family were present with a video link to the main function room for others to follow the short service.