Non-toxic algae reported on north Wales beaches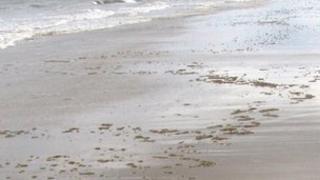 Stretches of algae, which can give off an unpleasant smell, have been reported on some Denbighshire beaches.
The local authority said the non-toxic marine algal blooms were affecting the north Wales coast.
In windy conditions the phaeocystis algae - not uncommon in spring and early summer - appears as foam, but looks oily in calm weather.
The council said it smells like cabbage when it is dying. Although not dangerous, contact should be avoided.
Earlier this month, similar algae washed up on beaches in Swansea and Pembrokeshire was mistaken for raw sewage.
Following that incident, Environment Agency Wales said it could cause mild skin irritation if handled, and contact should be avoided.