Consultation starts over Dobson & Crowther's supermarket plan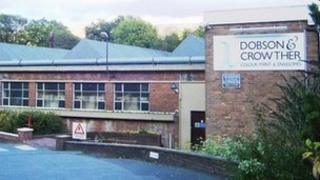 Public views are sought over plans to pay for a factory move to new premises by building a supermarket on its current site in Denbighshire.
Agents have issued more details to the county council due to initial issues raised over plans to move printers Dobson and Crowther in Llangollen.
Opponents argue a new supermarket could affect high street trade. Supporters say it would secure print jobs.
Councillors will rule on the plans once the consultation period ends.
The issue has divided opinion in the town since the application was submitted last November.
The authority asked the agent for the developer to address a number of concerns, including roads safety and landscaping, before councillors are asked to consider the application later this summer.
Now, the revised plans can be viewed via the council website, at Llangollen Library or the council's Denbigh office.
The company says the planned move would safeguard 100 jobs and help the firm to develop in the future.
It was taken over by a management buy-out in 2006, with the existing building being used for 65 years.
Opponents to the plan say the supermarket would be an out of town development.
They fear shoppers will be diverted away from the town centre.
Oswestry-based developer J-Ross Developments Ltd would own the new supermarket site where work would start after Dobson and Crowther moved to new facilities by the A5 at nearby Cilmedw.