Olympic torch: Day 12 of relay waves farewell to Wales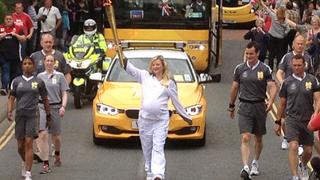 Thousands of people turned out to see the Olympic torch on day 12 of the relay as it left Wales.
The relay started the day in Chester, before heading south-east back into Wales, arriving in Wrexham shortly before 07:30 BST.
Later it went through Llanymynech in Powys before being greeted by thousands of people in a packed Welshpool.
Torch bearers included pregnant mother Hayley Lynch, 24, who is three days over her baby's due date.
The torch has spent six days in Wales, but has now headed into Shropshire, and it ends the day in Stoke.
Adele Nicoll and Emily Rowlands were among the first runners carrying the golden, perforated torch in Welshpool.
Pregnant Ms Lynch, 24, was the last torch bearer in Wales and was given a double leg, 600m rather than 300m.
People watching the the spectacle said thousands had turned out in Welshpool, the torch's last stop in Wales before it made its way into England.
BBC Wales reporter Arwyn Jones said there was a great atmosphere.
Meanwhile, BBC Radio Shropshire's Nick Southall said: "People are sitting on window ledges in Berriew Street in Welshpool, best seats in the house. People are 15 deep on both sides of the high street."
Earlier on Wednesday the torch visited Wrexham. One of the highlights was its arrival at the town's Guildhall, where it was greeted by cheering crowds.
It was carried there by 82-year-old Llandrillo man Ronald Price, who still visits a gym every week and delivers Meals on Wheels. He quipped that he "felt 20 again".
The flame then headed to the historic Pontcysyllte Aqueduct - a World Heritage Site - and was placed on a boat for a trip along the Llangollen Canal.
Earlier, Shaun Evans, 21, who has cerebral palsy and attends Glyndwr University, where he studies computer games development, carried the torch in Wrexham.
Church bells rang out in the background as he made his way along the road, surrounded by supporters.
Hannah Thomas, 19, from Wrexham, ran the leg from the Guildhall.
The Wrexham Athletics Club sprinter said: "I remember the first one I watched all the way through was Athens and I remember Kelly Holmes winning her gold medals and Men's 4 x 100m relay.
"It's so amazing and brilliant to see all these people.
"It's inspired me to keep on doing what I'm doing and perhaps one day my time will come."
Joshua Hill, who was diagnosed with Leukaemia but is now in remission, is one of the youngest torchbearers at 13.
Near Llangollen the flame was handed to another youngster, 12 year old Muhammad Ullah.
He was greeted with big cheers as he took the torch on.
However, there were two people who refused to cheer the torch as it made its journey through Wrexham.
Aled Cottle, 36, from Denbighshire, and "Budgie" Burgess, 45, from Flintshire, were protesting that Wales was not represented on the union flag. They also believe that Wales is not benefiting from the Olympics.
Later, about 3,000 turned out to watch the Olympic flame cross the Pontcysyllte Aqueduct.
The towpath along the Llangollen Canal and bridges overlooking it were packed, and the area was lined with Welsh flags.
There were huge cheers as Elizabeth Anderson ran in, over the footbridge and down the canal to Joanne Gregory, from Wrexham who was waiting by the boat.
Froncysyllte male voice choir and harpist Seren Haf provided entertainment to the appreciative crowd before and during the event.