North Wales CCTV camera shake-up concern in Wrexham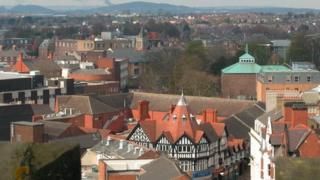 There are concerns over moves that could see a centralised CCTV monitoring system of town centre street cameras across north Wales to cut costs.
Officials from the region's six county councils are due to receive the results of a feasibility study this month.
Traders and owners of nightspots in Wrexham say they are worried the town's CCTV control room could be moved, possibly to Conwy or Colwyn Bay.
But the official in charge of the study says no decisions have yet been taken.
The CCTV review led by Conwy council was launched over a year ago with a Welsh government loan of £805,000.
Council leaders say no decisions will be taken until any proposals have been fully considered and discussed by all the authorities involved.
But Wrexham's Crime-Link co-ordinator Gerry Roberts says CCTV plays a key role in fighting crime and disorder locally and any move to set up a centralised control centre away from the town "would be a disaster".
Seven staff are involved in round-the-clock monitoring of more than 100 cameras in Wrexham alone.
The Crime-Link system also involves radio links with about 120 shop workers and security staff employed at premises around the town.
Mr Roberts, a former policeman, said the value of CCTV in a place like Wrexham should not be under-estimated.
'Detrimental'
"The local knowledge and experience of the team who monitor the cameras is absolutely invaluable.
"Centralising the system in somewhere like Conwy would be really detrimental because there'd be no dedicated local coverage."
David McCaroll, chair of Wrexham's Pubwatch scheme and manager of Liquid nightclub, said he and other licensees were concerned about any change.
"CCTV works very well here," he said.
"The people who run it know the shoplifters, the hoodlums and other troublemakers and with their local knowledge, they do a great job in preventing and reducing crime.
"There are many examples of why this system functions so well and we'd be strongly opposed to any plan to move the control room away from the town."
He said licensees and other traders were anxious to meet council leaders to discuss the results of the study before any decisions were taken.
Julian Sandham, regional CCTV project manager, based with Conwy council, said the results of the feasibility study would be presented to the chief executives of the six north Wales authorities at a meeting on June 22.
'Safe place'
But he stressed that "one regional operation doesn't necessarily mean one building".
The study has been exploring establishing one regional monitoring operation for CCTV across north Wales which would replace the existing six stand-alone operations.
"The objectives are to identify cash savings, other improvements and sustainability for the future," he said.
"No decisions have been made yet regarding establishing one regional monitoring operation; the number of centres/buildings or their locations."
Hugh Jones, Wrexham council's lead member for communities, collaboration and partnerships said the Welsh government required local authorities to collaborate and any proposal would be scrutinised.