Ex-Wales rugby captain Gareth 'Alfie' Thomas in Aladdin panto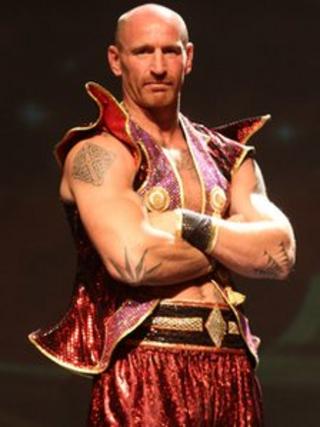 Former Wales rugby captain Gareth Thomas has signed up for a leading role in a Christmas pantomime.
The 37-year-old, nicknamed Alfie, will play the genie in Aladdin at the Stiwt Theatre in Wrexham.
Since quitting rugby, Thomas has taken part in Celebrity Big Brother and cariad@iaith, where he had to learn as much Welsh as possible in one week.
In 2009, he became one of only a handful of professional sports people to confirm he is gay.
Thomas said: "I am never one to back away from a challenge and try something new, so when I was offered this opportunity I thought it was too good to turn down.
"Having played rugby there for two years it will also be a good opportunity to catch up with old friends in the area. I hope we can encourage as many people as possible to get behind it and come and see me in costume."
The pantomime will run from 11 December - 2 January 2013.
'Epic'
Theatre manager Rebecca Griffiths said: "Gareth is a huge personality, a great Welsh icon, he has an amazing sporting career with a worldwide following.
"His presence on stage as the genie of the lamp is going to be epic."
Thomas won 100 caps for Wales during his union career.
He also played for Bridgend and Cardiff Blues and spent three years in France with Toulouse, where he won the 2005 Heineken Cup.
Thomas also switched codes from rugby union to Wrexham-based Super League club Crusaders.
He retired four days before he was due to play for the Wales rugby league team against England in the Four Nations in October.