Safety work reopens paths at Greenfield valley heritage park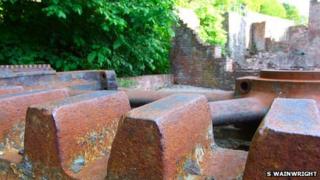 Full access has been restored to a Flintshire heritage park, 11 months after popular paths were closed when old mill buildings were found to be in a dangerous condition.
Officials at Holywell's Greenfield Valley Heritage Park have secured and fenced off Greenfield Mills.
The deterioration of the mill buildings was due to vandal attacks as well as age.
Repair work will begin next month on the site which dates back centuries.
Heritage park workers are considering putting bee hives around the buildings to act as a further deterrent to vandals.
"We realise that the wholesale closure of the site and the paths deprived the local community and visitors of some popular walking routes," said operations manager Chris Wright.
"But there have been benefits, and importantly, to the local wildlife."
The site contains a colony of rare dingy skipper butterflies which has grown in size since the lack of visitors in the immediate area.
Welsh government funding via heritage group CADW will help to pay for the remedial work with money from Flintshire council to pay for the security fencing.
Next year, the park plans a third phase of work around Greenfield Mills to improve biodiversity at the former industrial site which has been reclaimed by nature.
The 70-acre (28 hectares) heritage park, which includes a museum and farm, is owned by Flintshire council and managed by trustees from The Greenfield Valley Trust.
It is also home to near St Winefride's Holy Well, known as the Lourdes of Wales, as well as Basingwerk Abbey, founded in 1132.