Pontcysyllte Aqueduct buffer zone to limit development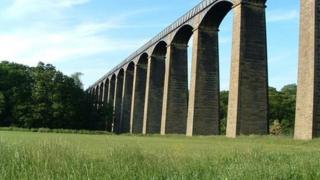 A 10-mile buffer zone to protect the Pontcysyllte Aqueduct and Llangollen Canal from development is being considered by Wrexham councillors.
The planning guidance has been drawn up in response to a recommendation by UNESCO, which awarded the site World Heritage Status in 2009.
The agency called for a single document outlining the need to protect the area.
Denbighshire and Shropshire councillors will also vote on the guidance drawn up after public consultation.
The world heritage route runs from Thomas Telford's 200-year-old aqueduct and along the canal, passing through Chirk and Whitehurst tunnels, and over Chirk Aqueduct.
A popular visitor attraction, it was included on the route of the Olympic torch relay which passed through Wales in May.
Visitor experience
As the canal crosses three local authority areas and the Wales-England border, the councils concerned joined forces to draw up a single set of proposed planning guidelines after consultation with the public.
Anna Irwin, a conservation officer with Wrexham council, said the document would not prevent development but would ensure all plans took the aqueduct and canal into account.
"The World Heritage Site is limited to the canal itself, but as part of the (UNESCO) inscription process we try to protect the setting," she said.
"We'll be looking at factors such as views of and from the site, effects on the visitor experience, and the character of the area.
"Some development close to the canal might be small scale but would have a big impact, while housing developments further away might be larger but have less impact."
Ms Irwin added that Wrexham council's own plans for visitor facilities along an 11-mile (17.7km) stretch of the Llangollen canal would also be subject to the guidance, particularly in residential areas.
The Plas Kynaston Canal Group has also proposed a system of cable cars and a marina as part of a visitor attraction in the village of Cefn Mawr.
Councillors on Wrexham's planning committee will consider the guidelines at a meeting on Monday at 18:30 BST, after which they will go to the council's executive board for a final decision.
Denbighshire and Shropshire councillors will discuss the document in the coming weeks.
Wrexham council's planning committee approved the proposals. They were passed without amendment and will now be considered by the executive board.