Flintshire council faces budget shortfall of £17.5m to £19.5m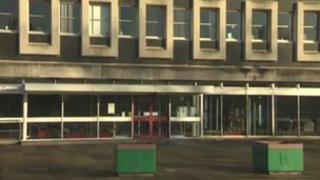 Flintshire councillors have been told the local authority faces a budget shortfall of £17.5m to £19.5m in the coming years.
A report discussed on Tuesday said the gap is expected between 2013 and 2015.
New council leader, Aaron Shotton, said the authority faced a "monumental fight" to protect front-line services.
Its cabinet agreed no changes would be made to the 2012/13 budget without discussion or clarity "over council priorities under a new leadership".
It met for the first time since Labour took control of the council in partnership with a group of independent councillors after securing 31 seats in the May elections.
Mr Shotton said: "The council is faced with an unprecedented and enormous financial challenge over the next two years.
"The watchword for the immediate future is how we defend and protect what we have got.
"The threat is very real and it is a massive challenge but one we are ready to accept.
"The combined effect of cuts from the Westminster government and a failure by the previous council to protect services from the threat of reducing budgets will present us with a monumental fight to protect and defend front line public services."
Mr Shotton claimed the previous ruling coalition had failed to put plans in place to deal with cuts and other financial pressures.
This was denied by former council leader Arnold Woolley, who said his administration had been "fiscally prudent" and had exercised "careful financial planning".
A report to councillors says the council is facing a £2.3 million budget gap next year, rising to £5.3m for the following year. In addition it needs to find up to £6m each year to meet "unavoidable pressures" including inflation, a single status pay agreement, borrowing costs and welfare reforms.
Currently the council's annual budget is £281m including £184m central funding, grants worth £39m and £57m raised through council tax.