Labour challenges Penlington-Pennington vote mix-up at High Court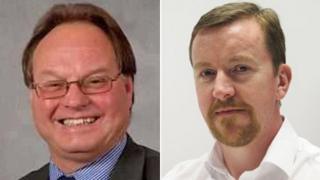 The High Court is being asked to overturn a council election result after votes for a Labour candidate were wrongly given to a Conservative rival with a similar name.
Denbighshire council blamed human error for votes for Paul Penlington being counted towards Allan Pennington.
The council admitted that the Labour candidate would have won if his votes had been correctly allocated.
Welsh Labour confirmed it was seeking to have the result overturned.
Mr Pennington was declared the winner of one of three county council seats in Prestatyn North with 580 votes, while Mr Penlington received 366.
The council later admitted that the Labour candidate would have won 605 votes to his Conservative rival's 340 if the votes had been allocated correctly.
A Welsh Labour spokesman said: "Following the fundamental error in the council election count in Prestatyn North ward in Denbighshire the Labour Party has submitted an election petition to have the count overturned.
This is now a matter for the courts based on the evidence submitted."
A council spokesman said: "We understand that a petition has been launched for the votes to be recounted.
"Denbighshire has indicated to the court that it has no objection to this happening and we are now awaiting further direction from the court."