Sharp Solar European HQ 'set to move to Wrexham'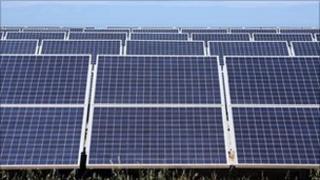 A company making solar panels is expected to announced that it is planning to move its European HQ from Hamburg in Germany to Wrexham.
Sharp Solar, which already employs 500 in Llay, may confirm the investment this week at a conference in Munich.
The story has emerged among the trade press. It is not known if the move will create jobs in Wrexham.
The reports say the company is planning to offer people loans to buy solar kits. Sharp has been asked to comment.
Andrew Lee, general manager for the solar commercial sales division at Sharp, is reported to have told BusinessGreen , a trade website, that the move was designed to create a "centre of excellence" for solar in the UK, combining its sales force, the Wrexham manufacturing plant, a laboratory in Oxford, and its head offices.
Early last year, Sharp announced a £30m expansion at the Llay site would lead to 300 new jobs.
The electronics firm then denied suggestions last November that it could be forced to close the plant following the UK government's decision to slash subsidies for household solar electricity.