Denbighshire council consults over £145k bus cuts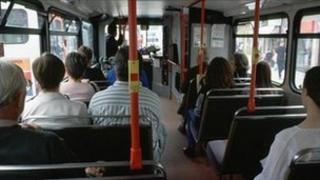 Denbighshire council has launched a consultation over potential cuts of £145,000 to bus services following reduced Welsh government funding.
A report says the council needs to "be in a position to act swiftly" following an "imminent" cut in funding.
Residents and users are now being asked to submit their views by 13 July.
A report says possible future changes include reductions on the Ruthin to Mold service, as well as that between Ruthin and Wrexham.
The report , discussed by councillors on Thursday, says £18,000 could be saved on the Ruthin to Mold service - bus numbers 1 and 2 - by returning to "2008 service pattern (withdrawing one bus worth, or work off-peak)".
Another possibility includes withdrawing Saturday afternoon journeys on the number 38 Prestatyn town service, with a possible saving of £5,000.
The X50 Ruthin to Wrexham service could save £19,000 with a "possible withdrawal January to July on college days (Rhuddlan-Wrexham college bus to cover)", the report says.
Councillors approved a consultation, and the findings will be submitted to a working group before further discussions.
Views can be expressed via the consultation website , or by phoning or writing to the council, no later than 13 July 2012.