Mold Town Council urges flood action over Cae Bracty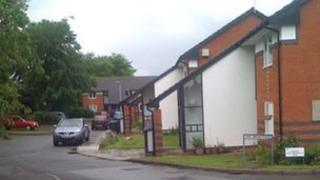 Community leaders want a meeting with officials over concerns about flood relief work to protect homes in Mold.
The town council wants to prevent a recurrence of flooding in Cae Bracty, which last flooded in April for the second time in three years.
Welsh Water says the work is the responsibility of Flintshire council, while the authority says it plans to carry out improvements next year.
There was a call for action after the first flooding incident in 2009.
The renewed call comes after the floods in mid Wales last week affected thousands of people.
Mold was hit by flooding in April when the fire service was called to pump out people's homes.
Councillors want a meeting of all parties involved before another incident in Mold.
The town has had some flood alleviation work after Mold was hit by flooding in 2000 when the River Alyn burst its banks.
"Getting them around a table will resolve this," said Mold town clerk Fred Boneham.
Neal Cockerton, Flintshire council's head of assets and transportation, said the authority had commissioned engineers to work on a further phase of Mold's flood alleviation scheme.
"A preferred route has been identified and a site investigation of this route is to be undertaken over the next few weeks."
He said the work will require planning permission and environmental assessments so is unlikely to start before spring 2013, taking about eight months to complete.
A spokesperson for Welsh Water said: "We will continue to liaise with the county council and other key stakeholders as a satisfactory resolution to this issue is progressed."