Hanson Cement works inquiry cost nearly £500,000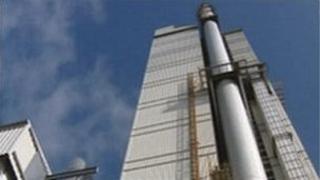 A two-year inquiry into health concerns over a Flintshire cement works cost nearly £500,000 and involved 13,000 hours of work, it has been revealed.
Concerns raised by people living near the Hanson Cement Works at Padeswood, near Buckley, prompted a study ordered by the Welsh government.
No links between the factory and levels of cancer and other illnesses were found, said a draft report last year.
A final meeting between investigators and local people was held on Friday.
The Hanson Cement Investigation Response Team said the total cost of the investigation had been estimated at more than £480,000.
It involved at least 80 members of staff from seven organisations, and 13,000 hours were spent working on it.
The team, including Public Health Wales, Betsi Cadwaladr University Health Board, Environment Agency Wales, Flintshire council, the Food Standards Agency and the Health and Safety Executive, found no evidence that emissions from Hanson Cement resulted in harm to people's health.
The investigation has also found no persistent evidence of increased ill-health in the population living near the site, compared with those living elsewhere in Wales or north Wales.
Following the publication of the draft report last December, comments and suggestions about were gathered from the public between January and June.
Andrew Jones, of Betsi Cadwaladr Health Board and chair of the investigation response team, said: "We have taken the community engagement very seriously and the views gathered during this time have helped to shape the final report of the investigation.
Rebuild trust
"The community engagement work has shown that some local people have been reassured by our investigation. However, we recognise that others continue to have concerns which they feel have not been resolved."
Mr Jones said in order to rebuild trust, his team recommended that communication and engagement should be improved between Hanson Cement, public agencies, public bodies and the local community.
"We recommend that no further investigations into the concerns relating to the health of the local population are required, unless new evidence comes to light from routine monitoring and surveillance," Mr Jones added.
Hanson Cement said it was delighted with the outcome of the study and would take on board recommendations about improving communications.
"We believe it has been carried out with thoroughness and integrity and we hope it offers our neighbours the reassurance they have nothing to fear from our operations," said a spokesman.