St Winefride's Well explored by Cast smartphone technology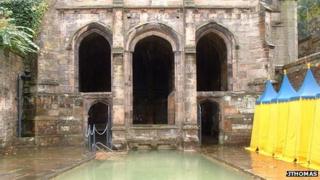 Experts are using smartphone technology to allow people to explore the finer detail of a historical building.
Laser images of intricate features at St Winefride's holy well in Flintshire will enable visitors to "see" the sculptures up close for themselves.
When viewed via a phone they will get additional layers of information - known as augmented reality - not seen by the naked eye.
Similar projects are being developed at other tourist sites around north Wales.
Developers at the Centre for Advanced Software Technology (Cast), a subsidiary of Bangor University, say they are hoping 3D augmented reality will enrich visitors' experiences at other historic buildings.
It allows users to interact with their surroundings and see things triggered by the phone application when pointed in a certain direction or at a particular object.
They are developing projects for Bangor Cathedral in Gwynedd, as well as St Winefride's Well, known as the Lourdes of Wales, and neighbouring Basingwerk Abbey, founded by monks in 1131.
The Imagina Atlantica project includes partners from Spain and Portugal with an exchange programme for artists, professionals, young people, and an international digital art competition.
"We hope to bring together artists and visual technology experts to work on the north Wales-based project, bringing the expertise of our Imagina partners to bear on our regional cultural heritage," said Karen Padmore, business development director from Pontio, the new cultural centre being developed at Bangor University.
Developers at Cast identified sites along the North Wales Pilgrims Way, a new tourism and pilgrimage trail linking religious sites across the region, for the project.
At St Winefride's Well laser images of intricate carvings on the ceiling of the well chamber have been used to create mobile and web-based applications to allow visitors on site to use their mobile phones to zoom in and explore the detail.
Additional layers of information will be activated by the user such as explanatory text and artist representations of well chamber details as they would have appeared to pilgrims in the Middle Ages.
St Winefride's Chapel was built around 1500 and encloses three sides of the well. Its construction was paid for by Margaret Beaufort, mother of Henry VII.