Turbine Transfers creates 20 Gwynt y Mor wind farm jobs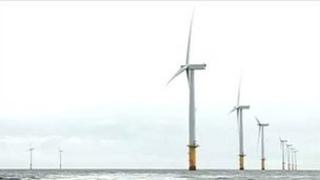 An Anglesey firm has landed a multimillion-pound contract as part of the project to build the Gwynt y Mor wind farm off the north Wales coast.
Twenty jobs will be created by Holyhead-based Turbine Transfers to provide six crew vessels to ferry workers to the windfarm site.
Project officials said the contract brings total investment in Wales by the wind farm to over £80m.
Boats will run from Mostyn, Flintshire, and the River Mersey at Birkenhead.
Catamarans
Business Minister Edwina Hart said: "It is vitally important that large-scale energy projects such as Gwynt y Mor support the regional economy and create jobs locally.
"Businesses across Wales should maximise on the economic potential of power generation to create jobs, wealth and growth as the Welsh government works to develop a new low-carbon economy."
Family-owned Turbine Transfers Limited was started in 2008, with two wind farm support vessels. Now it has 28, with three more this year and more in 2013.
The company has commissioned new catamarans for the project.
It will also operate two further crew transfer vessels at another windfarm off the German coast as part of the deal announced at Mostyn port on Wednesday.
Gwynt y Mor, which is being built 13km (8m) off the coast, is said to be one of the largest offshore wind farms in construction in Europe.
Once fully operational, energy generation is expected to be equivalent to the average annual needs of around 400,000 homes.