Ruthin's 'Yellow Brick Road' markings under review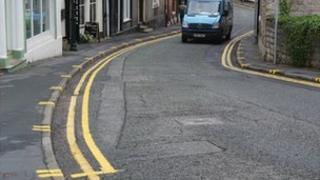 The decision to paint yellow pavement markings in Ruthin is under review after a "significant number of negative comments".
Denbighshire council confirmed the no loading markings, in addition to the double yellow lines, had caused concern due to their "visual impact".
An online petition was launched in protest claiming Sunday's paint job had "ruined" the look of the historic town.
One critic likened the scene to the Wizard of Oz's Yellow Brick Road.
Earlier this week, Denbighshire council said the pavement markings were painted to show loading and unloading was prohibited saying the size and frequency of the markings was governed by national regulations.
The markings prompted an angry reaction from some of the town's residents, with an online petition started and criticism on social networking site Facebook.
On Friday the council issued a further statement, saying: "Following the recent introduction of parking restrictions in Ruthin, the council has received a significant number of negative comments from residents, business owners and the community in general.
"These are particularly in relation to the visual impact of the yellow no loading marks painted on the kerbs.
"After consultation with the local county councillors, we have agreed to carry out an immediate review of the extents of the marks provided."